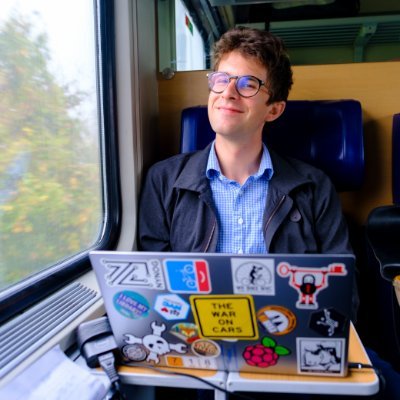 twitter archive — I left twitter in 11/2022
mastodon
bluesky
medium
linkedin
github
keybase
flickr
vladimirvince at gmail dot com
45E9 98D3 AC01 D19D 449E F4DD 9DE0 C7CA 8832 16E0
My name is Vlado and I live in Brooklyn, but I'm from Zagreb (Croatia, formerly Yugoslavia).
During the day I run IT in a performing arts organization in NYC, but here I may be posting about biking, transit and street safety, vintage computing with special interest in early online communities, covid safety and healthcare rights, things about the Balkans (usually in BCMS language) and many things in between.
Lots of posts here are about vintage computers and networks, which I find fascinating for both technological and sociocultural reasons. Recently the two main areas of my interest have been early online communities (fascinating in context of what's happening right now) and history of computing in Yugoslavia. I recently gave a talk about the latter at HOPE 2022 conference.
I love bikes, trains and transit. While I sometimes do bike tours and ride long distance, I primarily see bikes as essential, safe and fun tools for moving in cities. I used to volunteer a lot with Transportation Alternatives in NYC, but in recent years I've mostly been focused on improving access to bikes and bike repair through Mechanical Gardens Bike Co-op, based in Brooklyn, where I serve as Organizer and Board Chair.
Since I moved to the US over a decade ago, I've been a strong advocate for Medicare for All and the New York Health Act in NY state. Since the start of the pandemic, I've remained a vigilant advocate for COVID safety, vaccination and masking. In the summer of 2020 I started a website tracking COVID testing locations in Croatia.
I lost my grandfather to COVID in 2021. This was a devastating loss as we were so close. But the loss of my grandfather further informed my belief that we should do everything we can to protect those more vulnerable around us, and I'm committed to this effort. My loss has also informed my awareness of the need for collective grief and memory, and introduced me to the incredibly important work being done by the Disability community. I learn from these folks every day.